New Bluelight User
https://pbfdrainage.co.uk/wp-content/uploads/2020/07/IMG_0052-scaled.jpg
2560
1707
PBF Drainage
//pbfdrainage.co.uk/wp-content/uploads/2019/12/PBF-logo-header-2.png
January 2021 More great news for Bluelight.!
New impregnation system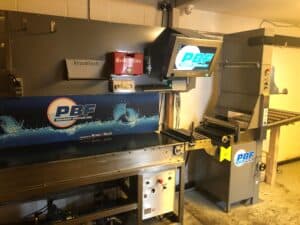 Due to Brexit and the inherent difficulties we were expecting importing equipment and materials from Germany and Denmark PBF took the decision to start impregnating liners in the UK. Wanting to provide the same high quality materials to our suppliers as they received from Germany, it was decided to purchase a high specification impregnation plant from Krasotech in Germany.
The new system has a capability of impregnating 500m of liner per 8 hour shift with a single operator. The system has a full protocol recording feature that records ever thing including resin temperature, density, roller speed and gap, batch numbers and times enables us to provide a full history to the end user. This means that there is proof of every step from manufacture to installation.
The equipment was ordered in October and started producing impregnated liners in December. Due to the difficulties with travel the system was set up by ourselves and with virtual tuition by Krasotech the plant was up and running in a very short period of time.
Our highly skilled impregnation staff can manually adjust resin quantities according to the clients requirements.
Supporting our clients with everything from pre liner, installation lubricants, spare parts, special resin requirements, calibration hose, we have the full range of stock kept in our warehouse in Northampton.
We are producing pre impregnated liners for all clients and try to ship these next day depending on the time and quantity of the materials ordered. We generally have a supply of pre impregnated liners already to go due to their 3 month shelf life.
With the investment of the new impregnation system running costs have been reduced but quality has stayed high due to the high tech equipment.
Waterways Drainage Specialists Ltd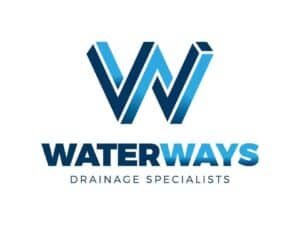 John Lawler from Waterways carries out multiple smaller diameter liners per week and needed to increase his production levels due to the amount of works that he has. Initially purchasing a single 40m Curing reel John wanted to start out small and build up to the longer larger lengths and sizes.
John and his team have a great reputation in the South West and has been installing ambient and hot cure liners for a number of years. He has seen the Bluelight system advertised on social media and trenchless magazines and was keen to take advantage of the systems reliability. After a number of discussions and looking at the other systems John took the plunge and purchased his first system.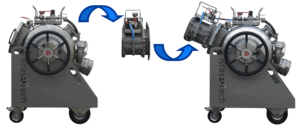 With PBF Drainage new dealer agreement with Krasotech and other supply partners John has also purchased a new Krasotech inversion drum, Keaser M13 compressor and a 5Kva generator. "It just made sense to me to purchase everything from a single source" "James and his team at PBD Drainage know how everything works and can supply us with everything we need all to a high standard. James kept us up to date all the way through the process and also assisted with the finance side of things."
Another great client we look forward to supporting.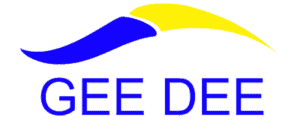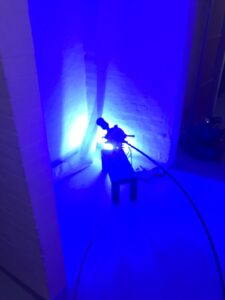 With all the difficulties of 2020 and 2021 we have had a great new start to the year with 2 new Bluelight contractors.
GeeDee Plant with Evan Edwards as managing director.
GeeDee already has a wealth of knowledge installing hot cure liners. Wanting to expand their capabilities within the CIPP market PBF Drainage has been in discussion with Evan for a number of months regarding the Bluelight system, "a number of our clients are based on chemical, and power plants this leaves us with very limited time windows for carrying out work on these sites. We needed a fast, reliable and high quality system that we could use."
"After investigating a number of other system on the market Bluelight fitted the bill without compromise." Its ease of use, ongoing support from PBF Drainage and its high quality and reliability we felt confident in the Bluelight lining system."
GeeDee purchased a 4 reel curing system with capabilities of curing the PAA-F liners in sizes DN70 – DN300 and PAA-G liners from DN200 – DN400 this is the most comprehensive system in the UK and the only DN70 Bluelight curing reel.
GeeDee have already been trained and certified on the system and have already carried out their first project of 200m of varying sizes DN100 – DN225 Allowing a full week for the works to get used to installing using the Bluelight system "in reality this could have been reduced to 3 days, we didn't want to be under to much pressure with this new curing system"
All the staff on site along with the client were incredibly impressed with how easy and simple the system was.
PBF Drainage look forward to working with Evan and his team from GeeDee Plant for many years to come.
Another happy Bluelight installer.!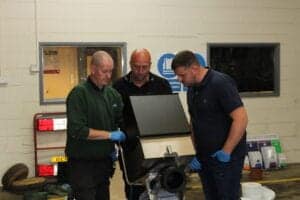 Second new system for ARM Pipetek.!!
With the award of new contracts and the success of their first Bluelight system ARM Pipetek decided to purchase this new addition. The 100m reel with large lighthead increases their capabilities. With their current installation levels at approx. 1500m a month this is increasing to approx. 3000m a month as of July 2021. " John Wilcox project manager say "We have been so impressed with our first system and the reliability has been second to none, there was no doubt in our mind that we would use Bluelight for our second system. The support we receive from PBF Drainage and the fact the guys can call them any time day or night gives us piece of mind that support is always there for them. In reality the system works so well that we never have to call them."
We would like to welcome ARM Pipetek Ltd to the Bluelight family.
ARM Pipetek are drainage and civils contractors with a wealth of experience in the Ultra Violet light cure CIPP sector.
Working closely with the water authorities in the North of England, new works streams has meant diversifying and requirements meant they needed a reliable, high quality lateral lining system.
PBF Drainage have worked closely with ARM for a number of years and we introduced them to our Bluelight LED light curing system.
Being the UK agents as well as Bluelight contractors we discussed the benefits of this system along with its usability and high productivity. The high quality was a requirement for the water authority, along with the Styrene free resins, long life expectancy and virtual zero risk involved. Proof of curing is provided via the built in protocol information of the system.
ARM Pipetek have been undertaking their training and certification on the system throughout the week installing multiple liners at different locations.